BSB30120 Certificate III in Business
Currently offered only online learning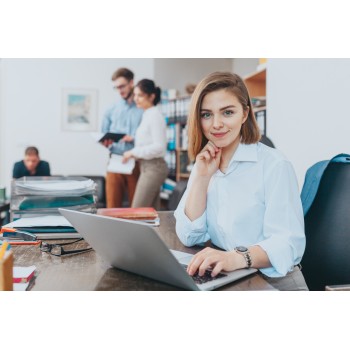 BSB30120 – Certificate III in Business
Course code: BSB30120
Packaging Rules
13 units including 6 core and 7 electives 
Course Description
This qualification reflects the role of individuals in a variety of Business Services job roles. It is likely that these individuals are establishing their own work performance.
 Entry Requirements
There are no pre-requisite training requirements for enrolment into the BSB30120 – Certificate III in Business.  The recommended minimum age of learners on enrolment will vary between the different student cohorts but should not be less than 15 years of age.
Duration
The time frame to deliver this course is 12 months – 24 months.
Career Opportunities
Job roles and titles vary across different industry sectors. Possible job titles relevant to this qualification are:
Payroll Officer, Customer Service Advisor, Data Entry Operator, Receptionist, Customer Service Representative, Records Clerk, Administrative Assistant
Pathways to Further Study
If you successfully complete this qualification, you could continue your studies in higher level business qualification in BSB50120 – Diploma of Business.
Fees and Funding
This Course is for Fee for Service only
Fee for Service (Full Fee)
| | |
| --- | --- |
| Qualification Name and Code | BSB30120 – Certificate III in Business |
| Number of Units | 13 |
| Administration Fee | $200 (Non refundable after 14 days of cooling off period of enrolment) |
| Resource/Materials Fee | $275 |
| Cost per Unit | $150 |
| Full  Fee | $2,425 |
Rise Education and Training is considering the candidate's/student's financial situation during the Global COVID-19 Pandemic Stage. Rise Education and Training marketed a promotional sale for the Course Fee from 1st February 2023 to 31st December 2023, the following Course Fees apply: 
*All the Fee for Service Students will be discounted 50% of all units' Fee from the Full Course Fee.  
Course Name: BSB30120 – Certificate III in Business
Total Course Full Fee: $2,425 
Discounted 50% of Units Fee: $1450
*The above fees include $200 Administration Fee and $275 Material Fee.
Course Units 
Core Units  CBSB30120 – Certificate III in Business
BSBCRT311 Apply critical thinking skills in a team environment
BSBPEF201 Support personal wellbeing in the workplace
BSBSUS211 Participate in sustainable work practices
BSBTWK301 Use inclusive work practices
BSBWHS311 Assist with maintaining workplace safety
BSBXCM301 Engage in workplace communication
Elective Units BSB30120 – Certificate III in Business
BSBWRT311 Write simple documents

BSBTEC201 use business software applications
BSBOPS303 Organise schedules
BSBPEF301 Organise personal work priorities
BSBOPS301 Maintain Business resources
BSBPUR301 Purchase goods and services
BSBINS202 Handle receipt and dispatch of information